I try not to post for myself very often, but since I have people asking, I thought I would let you know how you can give to help our family with this, our second, adoption. So I will post some different ways you can help give money toward our adoption. What always amazes me is that God takes care of everything!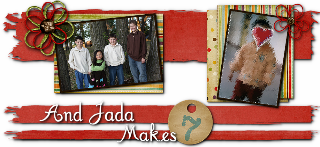 1) You can give to the piggy bank in the sidebar
And Jada Makes 7
- this goes through Paypal.
2) You can sign up for a blog makeover at
Busy Mama Blog Design
.
3) You can order from Amazon.com by clicking on ANY of our links at the bottom of our blog - you don't even have to order THAT item, but any order placed by clicking in through our blog - gives a small portion to our family account.
4) You can mail a check to our church and give through them - that would give you a tax deductible statement. If you choose this route here's the address:
New Hope Evangelical Free Church
Attn: Lisa Leusink
718 Florida Ave. SW
Orange City, IA 51041
IN THE MEMO LINE: put "Adoption for Bilby's" and it will 100% get to us and you will get a tax-deductible statement as well.
5) Any Creative Memories orders placed through
my site
also give a portion back to us - so that is good too!! (Traditional Scrapbooking or Digital Supplies - either counts!!)
6)Lastly, I am starting another blog - this one is called
Chloe's Closet
- I am selling all of Chloe's out-grown clothes that I was saving for Jada and now know won't fit her! I am also accepting DONATIONS of items to giveaway on this site as well - some designers have sent me brand new items to list on there - and that helps us too!